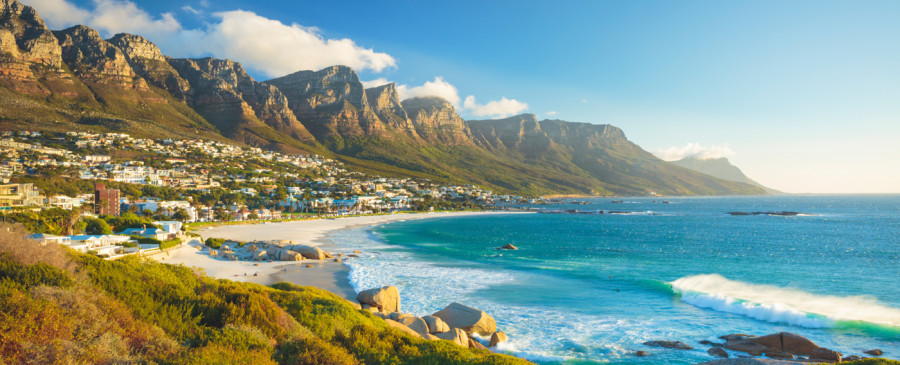 Camps Bay is famed for being ultra luxurious, breathtakingly beautiful and the place where the elite, rich and fabulous come together to experience great times in Cape Town. Set along the stunning Atlantic Seaboard with the backdrop of the 12 Apostles and Signal Hill, as well as some of the most exquisitely designed villas money can buy, there is an unmistakable air of "the finer things in life" when driving along the coast and admiring Camps Bay's luxury villas. 
The gorgeous suburb of Camps Bay combines romance with exclusivity and excitement to provide guests with an unforgettable holiday setting, enjoyed all year around by visitors from around the globe. Some of the best restaurants and attractions in Cape Town are located along Camps Bay's famous beachfront promenade and play a big role in our country earning legendary status for its amazing wines and excellent cuisines. Camps Bay is also home to a blue-flag beach and is located next to the seaside suburbs of Clifton and Bakoven, also well loved and boasting a unique array of attractions and a selection of gorgeous beaches.
Although Cape Town as a whole offers tourists so much to do, the ocean facing suburb of Camps Bay is in a league of its own when it comes to style and luxury. The lengthy beachfront is lined with palm trees and bordered by rocks and shallow tidal pools, while those spending a day at the beach need only walk a few meters to enjoy the vibrant promenade bustling with locals and visitors having cocktails, brunches and shopping with friends and family. Table Mountain is located a short drive away, while Camps Bay's Theatre on the Bay offers excellent entertainment and The Promenade is perfect for shopping.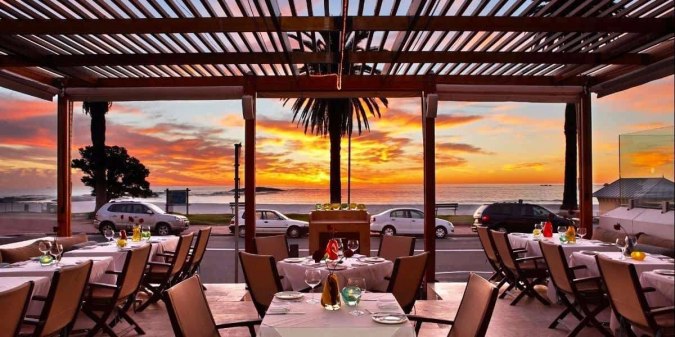 Dine in Style at Camps Bay:
The Hussar Grill –  Voted the best restaurant in Camps Bay by Tripadvisor in 2014 and then again in February 2018, The Hussar Grill offers dinners a traditionally old-school style dining experience, friendly and professional service and an ambiance of relaxation and refinement. The steak is of the finest quality and the restaurant uses only the best cuts to ensure maximum flavour. Be sure to spend some time admiring the amazing wine list, too.
Codfather Seafood & Sushi – We're talking huge prawns, the tenderest calamari, innovative sushi and a spectacular variety of seafood dishes. Camps Bay's popular and constantly abuzz Codfather Seafood & Sushi restaurant has been a favourite for almost two decades and serves up only the freshest and most tasty dishes imaginable. For a more intimate dining setting, request to be seated in the gorgeous wine cellar.
The Roundhouse – Extraordinary cuisine, a seasonal tasting menu, booking exclusivity and a myriad of fine wines await diners at The Roundhouse.  Perfectly positioned in the glens of Table Mountain and overlooking the vast Atlantic Ocean, The Roundhouse is a fine dining restaurant operating out of building constructed in the 17th century, with a rich and wonderful history. The food is great, the people are friendly and the surrounding views are out of this world.
Paranga Restaurant – Simply put, "if you've got it, flaunt it" and Camps Bay's sensational Paranga restaurant is one of unsurpassed views and only the best cuisine. Take in the famous sunset displays over blue ocean waters while sipping on a cocktail with friends, choose from a variety of inspired dishes featured on Paranga's a la carte menu and discover the joys of seaside dining. Paranga Restaurant specializes in seafood and sushi dishes and uses only the freshest ingredients.
Zenzero – This beautiful and elegant restaurant is perfect for an unforgettable romantic date, an intimate dinner with friends or a family get together in style. Zenzero serves truly exquisite Italian dishes as diners enjoy the fresh air and crashing waves – each dish is lovingly prepared and beautifully plated. The vibe at Zenzero is classic "La Dolce Vita", a little slice of Italian heaven adding spice to Camps Bay's famous sunset strip.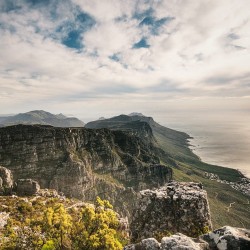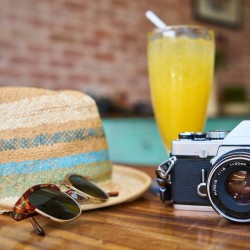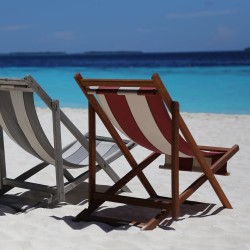 The Best of Camps Bay:
Langaro Lifestyle Centre –  The wonderful Langaro Lifestyle Centre borders the beachfront and offers those visiting Camps Bay the chance to relax, luxuriate and rejuvenate in a beautiful and tranquil setting. A professional team of beauticians, stylists and therapists form part of Langaro's promise of quality services offered to you – all you need to do is show up and be ready for pampering and relaxation. The Langaro Lifestyle Centre offers a range of sensational beauty treatments and signature therapies that are meant to sooth the soul and enlighten the senses. Some of the expert services offered here include amazing skin care routines, sensual massages and facials. The Langaro Nail Studio is perfect for ladies who love to maintain their nails and spoil themselves. Langaro also offers a hand in your choice of fashion, with style consultants on hand to assist you in developing your own personal style.
Camps Bay Beach –  With the spectacular backdrop of the 12 Apostles, Lions Head and Signal Hill as well as the famous sunset strip of lovely restaurants that stretch from one end of the promenade to the other, Camps Bay Beach forms a big part of the beauty that has earned Camps Bay its world renowned luxury status. This beachfront holds a blue-flag status for its cleanliness, safety, family-friendly facilities and undeniable beauty. There are shady spots under palm trees that are perfect for afternoon picnics or a lazy morning spent reading or relaxing on the shore, while beach goers can choose from the many fantastic restaurants and cafes overlooking the beachfront to enjoy a cocktail or delicious meal after (or before) a day spent in the sunshine by the sea.
Luxury Accommodation in Camps Bay:
Villa Galazzio: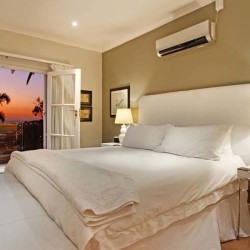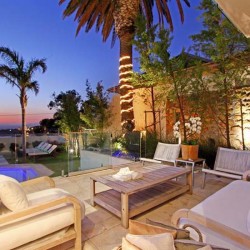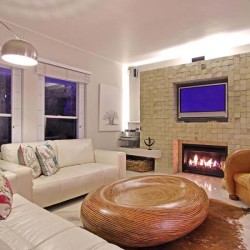 Discover the best of Camps Bay day in and day out by staying in Villa Galazzio, a stunning 6 bedroom (12 sleeper) villa overlooking the beachfront and located close to a number of attractions and restaurants. Entertain guests outside by the pool, inside around the fireplace when the weather is cooler or even enjoy a more intimate catch-up (or business meeting) in the stylish sun room, furnished with leather armchairs. Each bedroom is elegant and spacious, while additional features of this luxury villa include underfloor heating, a stylish fully-equipped kitchen, BBQ facilities, air-conditioning and DStv and Wi-Fi connectivity. For more info or to book Villa Galazzio, click here. 
Apostles Edge: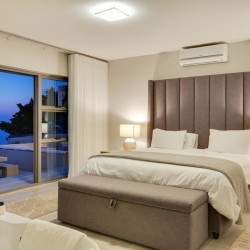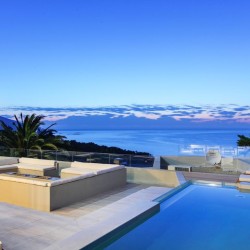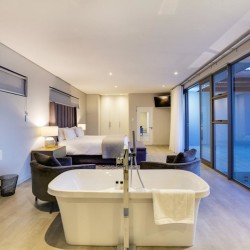 Luxuriate in this gorgeous seaside villa for an unforgettable holiday experience, surrounded by the natural beauty of Camps Bay and just minutes from all the excitement. Apostles Edge is a three story villa with exquisite views of the Atlantic Ocean. Up to 12 guests can enjoy luxury accommodation here, the villa offers 6 ocean-facing en-suite bedrooms with double beds. Boasting designer touches, eye-catching decor, modern furnishing and plenty of space to entertain both inside and outside, Apostles Edge can be described as palatial. Keep warm by the fireplace, visit by the bar area or on the large outdoor deck over a traditional braai. For more info or to book Apostles Edge, click here. 
62 Camps Bay: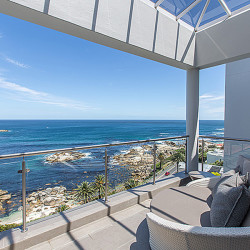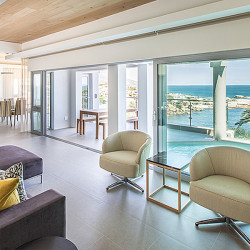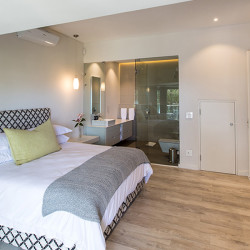 The perfect seaside sanctuary for a group of family or friends, 62 Camps Bay is a beautiful and contemporary villa with unsurpassed ocean views, able to accommodate up to 8 guests in its 4 en-suite bedrooms and promising a memorable stay to one and all. Nestled between Camps Bay, Bali Bay and Bakoven Beach, guests will be spoilt for choice when embarking on outings in the immediate areas with so many attractions close by. This family-friendly villa boasts a full chef's kitchen, reading room, air-conditioning as well as Wi-Fi, DStv and Netflix connectivity. Indulge by booking unforgettable and luxurious holiday accommodation here at any time of the year! For more info or to book 62 Camps Bay, click here. 
Hollywood Mansion: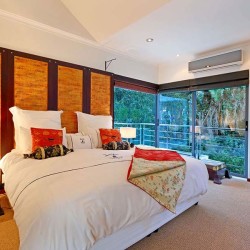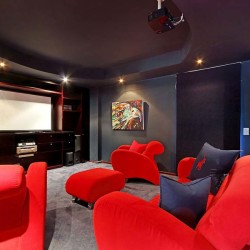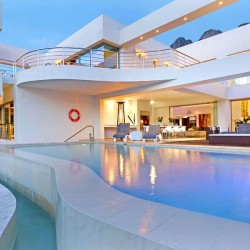 Enjoy life as a royal in the ultra-luxurious Hollywood Mansion villa located in Camps Bay. This striking villa lies under the 12 Apostles and overlooks the vast beachfront and ocean, with 9 balconies providing ample space from which to take in the natural surrounding beauty. In winter, two fireplace and underfloor heating create a warmth throughout, while during summer the swimming pool and air-conditioning create a cool atmosphere. This villa boasts a large library, sunken wine cellar, indoor gym, a myriad of entertainment areas, an outdoor play area for the kids and even a soundproof cinema and outdoor surround-sound. There are 5 gorgeous en-suite bedrooms that can accommodate up to 10 guests for an unforgettable stay. For more info or to book Hollywood Mansion, click here.  
17 Argyle Villa: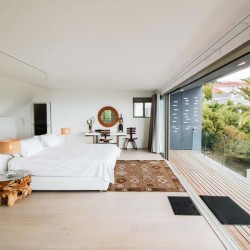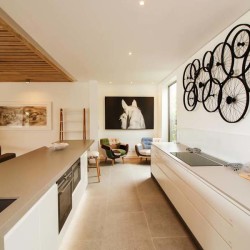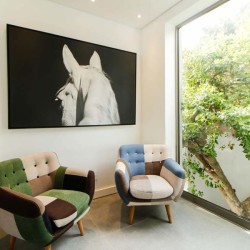 Cape Town is all about art, expression and nature, all of which come together beautifully in this luxurious and trendy 10 sleeper villa in Camps Bay. Argyle Villa is located within walking distance from Camps Bay's beachfront and offers views of the famous 12 Apostles and the vast Atlantic Ocean. Each of the 5 en-suite bedrooms are air-conditioned and decorated in an elegant and artsy way, while the house features a wonderful and distinctly African showcasing of art, a solid timber dining table and plenty of natural lighting and fixtures. Additionally, guests can also enjoy complimentary Wi-Fi and DStv connection, a spacious and fully-equipped kitchen and housekeeping services. For more info or to book Argyle Villa, click here. 
Start planning your self-catering holiday to Cape Town and enjoy Holiday Apartment's selection of villas in Camps Bay. Most of the villas in Camps Bay have enchanting ocean views, modern amenities, safe parking and are very spacious and beautiful. Need more information on Camps Bay before you make your holiday booking? Check out our blog post on What Makes Camps Bay the Ultimate Holiday Destination.