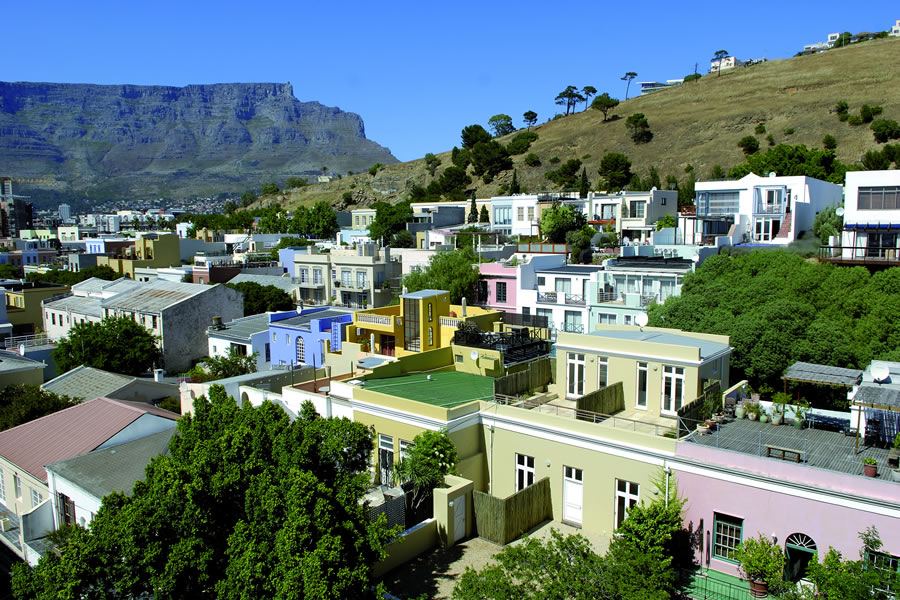 De Waterkant beckons one and all to experience its beauty and unique, otherworldly charm while on vacation. This colourful village enchants guests and is considered a gem nestled within the wonderful Cape Town City, with an abundance of attractions to be enjoyed by all and a creative and inspiring atmosphere made up by the people that live here and the superb surroundings.
This small upmarket suburb is home to many creative minds and thriving young professionals. The winding cobblestone streets date back to the 17th century and old, Dutch style homes with flowerbeds and white picket fences are an ode to the past – however, De Waterkant is a very cosmopolitan and vibrant area, with a diverse population, exciting urban culture and a modern mindset. While exploring the beautiful De Waterkant village guests will come across many quirky cafes, art galleries and inspired restaurants, although simply walking through this picturesque suburb is a treat in itself. Sprawling trees branch out over narrow pathways that are pumping with a constant energy, reflecting the lifestyle and original ambiance of De Waterkant.
Discover many of Cape Town's most popular tourist attractions during your stay in De Waterkant. The luxurious V&A Waterfront is only a short drive away and is packed with family-friendly attractions and stylish stores. Table Mountain's cable way is a spectacular experience and Cape Town's electrifying Long Street will have guests partying up a storm with a selection of clubs, bars and amazing eateries.
Visit our Holiday Apartments website to view our full range of self-catering accommodation in De Waterkant by clicking here. Our selection includes gorgeous apartments, lofts and homes with captivating views over the lively city of Cape Town.
Where to go in De Waterkant?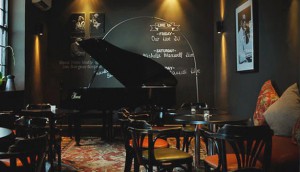 The Piano Bar – There is no place in Cape Town that is quiet like the Piano Bar, a trendy revue bar and eatery with an unmistakable touch of New York sophistication and African flair. A soulful ambiance is filtered through the air as guests from all walks of life and various cultural backgrounds and tastes come together for a magical experience. Throughout the week, the Piano Bar's stage gives upcoming local performers the opportunity to showcase their musical talents – classic piano artists, indie folk singers and soulful jazz numbers serenade diners. Socialise outside on the wraparound terrace which offers guests spectacular views of the city lights. Inside, the intimate bar room is dimly lit and perfect for a catch up with a friend over a cocktail, while the main dining area features black walls and high windows, with the baby grand piano stealing the spotlight – here, guests can enjoy a menu selection of amazing meals ranging from tapas of bobotie, biltong and oriental pork to main meals like burgers and steak, as well as a mouth-watering dessert selection. Weekly specials on meals and drinks make it affordable for everyone to enjoy time here and get caught up in all the excitement.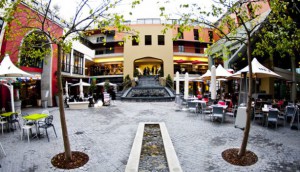 Cape Quarter Lifestyle Village  – Enjoy a day outing with the whole family at the Cape Quarter Lifestyle Village in De Waterkant. An upmarket and trendy shopping village with over 100 appealing stores, Cape Quarter shoppers can expect to find some wonderful novelty gifts to remember their experience by. A few lovely clothing boutiques and jewellery stores can appeal to modern fashionistas and keep guests up to date with their holiday wardrobe – after all, Cape Town is well known for its fashion-forward approach and many individuals who stay in the city express themselves through their creative outfit choices. This lifestyle village is open 7 days a week and promises visitors a unique shopping experience. Distinct restaurants like Villa Mia restaurant and Alforno Cafe are popular among diners, while coffee shops like the Bootlegger Coffee Company and Vida E Caffe will tame anyone's coffee craving.  Upstairs, the Batstone Pool and Lounge is a great spot for socializing in the summer, a relaxing rooftop bar and cafe with amazing city views where hipsters, locals, business people and friends can chill out over a light lunch or even dip their toes in the refreshing azure blue pool water.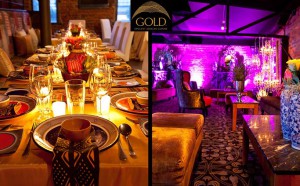 GOLD Restaurant  – Defining the phrase 'Opulent African Cuisine', De Waterkant's beautiful Gold restaurant is truly an experience guests will savour for a lifetime. Be transported to Africa's safari and discover some amazing and inspired flavours that reflect the many beautiful and diverse elements of the country. GOLD serves a stunning 14 course set menu that changes from season to season, celebrating healthy eating and beautiful organic produce and with vegetarian substitutes to meat and poultry dishes. This sensational menu kicks off with a starter of spicy Zanzibar Soup and follows with some traditional favourites like South African Roostekoek, Cape Malay Lamb, a refreshing Ethiopian Iab, Zambian Kandolo Balls, Tanzanian Mchichi Wa'nazi and a sublime dessert course of Moroccan Orange and Walnut to end off the evening festivities. The ambiance is one of unique expression and joyous conversation that is enhanced by colourful African decor consisting of traditional artifacts, contemporary artwork, fresh flowers and rustic earth toned accents. Rhythmical dancers, praise singers and djembe drum performances also take to entertaining diners throughout the evening and engage guests of all ages.
Accommodation in De Waterkant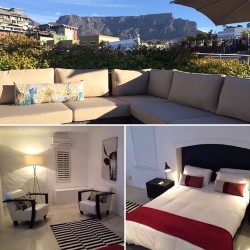 147 Waterkant Street, De Waterkant – Enjoy the eclectic ambiance of De Waterkant  in Cape Town city by staying in this stunning 3 bedroom, 3 bathroom self-catering and fully serviced holiday townhouse. The large and beautifully furnished rooftop terrace is the perfect place to appreciate dazzling views over the city lights and toward Table Mountain, night or day. A group of up to 6 people can live it up in this modern African themed townhouse, which is spaciously designed and beautifully furnished. The cosy and stylish lounge area boasts a fireplace and a flat screen TV with DStv connection, while a fully equipped kitchen includes a washing machine and coffee machine and allows for easy cooking and entertaining. Each bedroom is pristine and also provides guests with a safe for their valued possessions, while Wi-Fi connection is also available to all who stay here. On the doorstep of this lovely De Waterkant townhouse, guests can enjoy a variety of quirky coffee shops, deli's and amazing restaurants while being only a short and convenient drive from a number of attractions for the whole family to enjoy. For more information or to enquire about booking 147 Waterkant Street in De Waterkant, click here.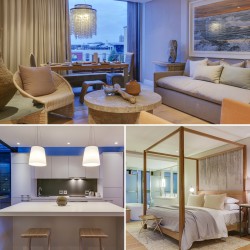 Loader B, De Waterkant – For a magical holiday experience where every luxury is provided and guests can experience the vibrant De Waterkant suburb of Cape Town, enjoy a stay in this luxurious self-catering apartment. With two stunning en-suite bedrooms, up to 4 guests can experience this exquisite accommodation in the city. This modern apartment is decorated to precision and would fit into any modern decor magazine, with its soft earthy tones, gorgeous furnishing and opulent decor and finishes that leave nothing unseen to. Opaque pearl white chandeliers, large windows and wooden floors create an attractive setting. The main living areas are open planned with an easy flow for entertainment and conversation, where a state of the art kitchen features extra's like an espresso machine and a dishwasher. Holiday guests can also enjoy a variety of channels on DStv, as well as make use of the free Wi-Fi on offer. The added provision of private pool is also available, while a beautiful glass-walled courtyard provides greenery and lets natural light into the apartment. To enquire about bookings or for more information on Loader B in De Waterkant, click here.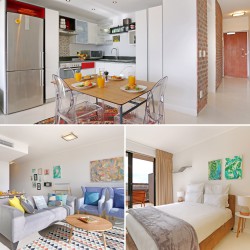 317 Rockwell, De Waterkant –  A stylish urban apartment that offers a unique vantage point over the village of De Waterkant, this 4 sleeper (2 bedroom) self-catering accommodation unit allows guests of all ages and from any walk of life to experience everything the vibrant Mother City has to offer. With the most amazing views of Signal Hill, the waterfront harbour and the bustling city below, holiday guests staying here wont have to go far to discover and explore Cape Town's best tourist attractions while on vacation. This fully serviced apartment is located in a restored building from the early 19th century, where modern sophistication meets historical charm – the complex building also provides guests with a communal pool, fitness centre and laundromat. The decor is cosmopolitan and playful, a bright and airy living area with pops of colour and energy. With a fully-equipped kitchen and dining room, stylish lounge and a large sliding door leading onto the balcony, everything comes together perfectly for comfortable living . Also enjoy free Wi-Fi connection and DStv connection on the flat screen TV. To enquire about booking or for more information on 317 Rockwell in De Waterkant, click here.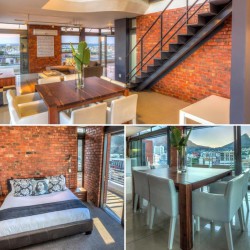 Cape Town Penthouse, De Waterkant – A group of up to 6 guests can enjoy this gorgeous self-catering penthouse in Cape Town's stunning De Waterkant area, that captures every element of city living and African taste. Create unforgettable moments in style and comfort with your loved ones and be only minutes away from all the excitement of the city below, a hustle and bustle of eclectic energy and so much to be discovered. This lovely penthouse expands over two levels and offers sensational views that stretch over the city to the vast Atlantic Ocean. Fragments of exposed brick and accents of steel and art deco create a beautiful decor scheme, while plenty of natural light streams in through the floor-to-wall glass windows and wide sliding doors. An open plan design allows for easy entertainment, with the open plan kitchen, lounge and dining area flow together. All 3 bedrooms are unique from the next and offer sensational views, while also providing en-suite bathrooms. The industrial styled staircase leads to an attractive roof terrace that offers remarkable 360 degree views. For more information or to enquire about booking Cape Town Penthouse in De Waterkant, click here.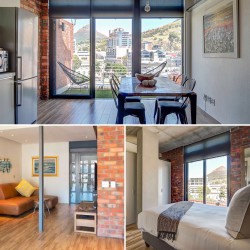 Lofts on Prestwich, De Waterkant – Ideally situated in the heart of Cape Town's beautiful and charming De Waterkant suburb, guests can enjoy a truly unforgettable vacation in a choice between two of these lovely self-catering loft apartments. Each loft is spacious and provides exceptional views of the mountain and Mother City. A contemporary open plan design and an industrial yet elegant decor and furnishings style creates a lovely atmosphere, where guests can spend their time in comfort and class. Additional features to guests include uncapped Wi-Fi and also DStv and Netflix connection, with channels to appeal to any taste. Each of these modern air-conditioned units provides a fully-equipped kitchen and 2 bedrooms, able to sleep a group of up to 4 holiday guests. Enjoy waking up to the sound of the bustling city below and engaging in a number of exciting attractions. This complex also provides indoor secure parking and a communal pool and gym. For more information or to enquire about Lofts on Prestwich in De Waterkant, click here.