There is an unmistakable magic to arriving in Cape Town, flying above the various mountain ranges, the deep blue waters of the Atlantic Ocean, the shimmering rooftops of various buildings and homes and the abundant, wide open fields. There are endless possibilities for how to spend a holiday in the Western Cape, a journey that starts as soon as your plane lands at the airport. For those planning to explore Cape Town's many attractions at their own pace, booking a car rental will make getting from point A to point B an adventure, with gorgeous surrounding landscapes and scenery to be admired along the way. By planning to make use of a car rental, travellers have the opportunity to drive across many routes to discover the Cape from their own perspective and stay in a variety of areas.
Cape Town International Airport couldn't be more central. When exiting the airport, travellers are met with a variety of choices to begin their holiday journey, each one offering unique attractions and options to visitors and most being less than a 2 hour drive away. Depending on your preference and holiday itinerary, you could find yourself lazing at the beach and soaking up the sun, enjoying a picnic on a wine farm or hiking through forests and climbing up the majestic Table Mountain. With Cape Town's tourism continuing to blossom, more and more holiday guests have the chance to create their dream vacation.
PLEASE NOTE– the Cape Town International Airport is preparing for a name change in the near future. Although this is not official as of yet, it looks like the new name might be  "Nelson Mandela International Airport".
Cape Town
Travel from Cape Town International Airport to Cape Town city centre, a mere 20 km journey (about a 25 minute drive in total). As you near the city, watch as Table Mountain becomes larger and the colourful city streets capture a vibrant atmosphere. The streets are lined with funky galleries, lovely coffee shops, trendy eateries and so much more.
The city centre, also known as the City Bowl, is perfect for travellers wanting to explore Cape Town's most popular tourist attractions, so naturally a trip up Table Mountain via the cable car is high on the list of things-to-do, as is a visit to the popular V&A Waterfront, which is not only an amazing shopping and dining destination but also the docking station for trips to the famous Robben Island, which is a remarkable experience for the entire family. While discovering everything that makes the Mother City so exceptional, guests can enjoy nights out clubbing at Long Street or catching a live show or production at one of Cape Town's popular theatres, such as the Fugard Theatre or Artscape Theatre – the city is an awesome place to get caught up in the culture and lifestyle of a true Capetonian!
Get in touch with Cape Town's magical outdoors; enjoy a picnic at the famous Kirstenbosch Gardens in Newlands, experience the famous Chapman's Peak Drive in Hout Bay or appreciate the fresh ocean air at Sea Point Promenade in Sea Point. Cape Town's upmarket Camps Bay suburb offers guests the ultimate luxury setting for a vacation, with an outstretched blue-flag beachfront and modern strip of ocean-facing restaurants and cafes. Cafe Caprice in Camps Bay is a casual yet contemporary cafe that is perfect for sundowners, displaying superb views of Camps Bay Beach and the palm tree lined promenade. To find out more about Camps Bay, have a read through our blog post titled Experience the Luxury of Camps Bay in Cape Town. 
Camps Bay's neighbouring suburbs of Bakoven and Bantry Bay are also well known and highly sought after suburbs, offering travellers the best of the city and the sea while displaying sensational views and providing unsurpassed luxury.
For first time visitors, the opportunity to visit Simons Town is one to be appreciated and is unlike anything else. Simons Town is one of the country's oldest towns and has an exquisite vantage point of the Cape Peninsula, while the drive to Simons Town from the city is very scenic and captivating. Boulders Beach is easily the most enticing attraction in Simons Town, home to an adorable colony of African penguins. Drive further along past Simons Town, about 30 minutes, to eventually reach Cape Point, a truly breathtaking sight and amazing experience.
Choose from Holiday Apartments selection of self-catering accommodation options in Cape Town's city bowl and its various surrounding suburbs, from luxury villas in Camps Bay, Bantry Bay and Bakoven to trendy accommodation in areas like De Waterkant and V&A Waterfront. Select self-catering accommodation in Simon's Town for a relaxing time with loved ones.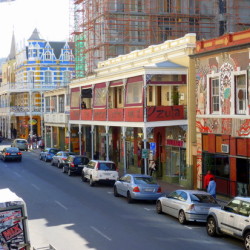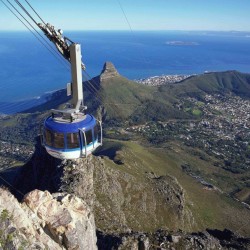 West Coast
As with most of the Cape, the exquisite West Coast is easily accessible by car and journeying through it is an amazing experience by itself. The drive from Cape Town International Airport to the starting point of the West Coast, a small village named Grotto Bay, should only take about 40 minutes, over a distance of about 50 km's. For those with time to enjoy the scenic route, this comes highly recommend and adds an additional 25 minutes of driving time to the trip, which is worth every second.
By taking the scenic route from the airport to the West Coast, you will be passing the seaside suburbs of Milnerton, Bloubergstrand and Melkbosstrand along the way – these suburbs offer stunning holiday accommodation options and a myriad of attractions that include Eden on the Bay and the Blue Peter restaurant in Blouberg, as well as Milnerton Beach and a stunning variety of restaurants in the picturesque fishing village of Melkbosstrand – where better to indulge in fresh seafood that right along the Atlantic Ocean? Once you reach the West Coast, a long stretch of inviting coastal villages can form part of your stay, each with its own memorable characteristics and unique charm. The West Coast suburb of Langebaan is a popular holiday setting that offers tons of family-friendly activities for all to enjoy. While in Langebaan, Calypso Beach and Kraalbaai Beach are both great for outings on warm summer days (or even warm winter days…). Langebaan's renowned Die Strandloper restaurant is a must for all tourists and is a rustic outdoor style eatery serving a 10 course African seafood feast with traditional home-made sides.
For a holiday setting that is more remote, the West Coast's sleepy suburb of Paternoster is an old fisherman's village that is very tranquil and perfect for a relaxing escape – this suburb's trademark whitewash houses and winding streets are picture perfect, while the main beachfront is more quiet than many others in the area. There is a fantastic selection of restaurants and attractions to be enjoyed in the delightful Paternoster suburb while on holiday- check out Holiday Apartments blog post all about Paternoster.
Book self-catering accommodation through Holiday Apartments and choose from our accommodation options located in the West Coast suburbs of Langebaan, Paternoster, Jacobs Bay, Yzerfontein and Lamberts Bay.
  


Cape Winelands
The Cape's divine Winelands lead holiday visitors inland to this wonderful wine-producing area, attracting local and international visitors all year around. From Cape Town International Airport, The Cape Winelands' lovely Stellenbosch suburb can be reached by car within 35 minutes.
The Cape Winelands has an enchanting and tranquil atmosphere, surrounded by striking natural assets and outstretched gold and green vineyards. Each suburb forming part of this area is special in its own way, while many of the buildings and houses boast classic Cape Dutch style architecture and interesting histories. Home to a variety of fabulous wine estates, renowned restaurants and beautiful nature reserves, the Cape Winelands can provide endless excitement and activities to guests of all ages.
For the opportunity to visit century old vineyards, Franschhoek is a great choice for a holiday destination in the Cape Winelands, especially for avid wine and food-lovers. Framed by elevated mountain ranges, this suburb still produces some of South Africa's best wines, while a number of the restaurants here have received international acclaim. The highly-recommended Franschhoek Wine Tram offers customers a "hop-on-hop-off" tour through the valleys of Franschhoek and its various wine estates. Other attractions in Franschhoek include the Mont Rochelle Nature Reserve and the Franschhoek Motor Museum. About a 40 minute drive from Franschhoek lays Stellenbosch, rich in nature and displaying stunning views of the Simonsig Mountain ranges. While visiting Stellenbosch, some of the top wine estates include the Neethlingshof Wine Estate and Morgenhof Wine Estate. Many enjoy their time in Stellenbosch exploring the local art galleries, restaurants and various other attractions before returning to the comfort of their own self-catering holiday accommodation nearby.
Take a journey to the lovely Cape Winelands suburb of Paarl, where every stop has a new surprise in store. Paarl is home to some amazing animal enclosures and reserves, not forgetting of course the many wine tasting hot spots, such as the renowned Spice Route and Fairview Wine and Cheese farm. Embark on a scenic drive a little further along the Cape Winelands to the small and friendly country town of Robertson. This is truly a dream destination for any and all wine enthusiasts, offering exceptional wine cruises, gorgeous wine estates and plenty of opportunities for wine tasting. Robertson is often referred to as the valley of wine and roses.
Choose your ideal self-catering holiday accommodation in the areas of Franschhoek, Stellenbosch, Paarl or Robertson from Holiday Apartments stunning selection.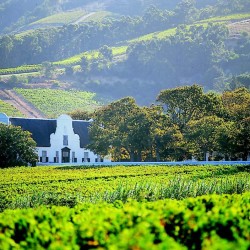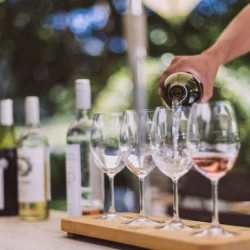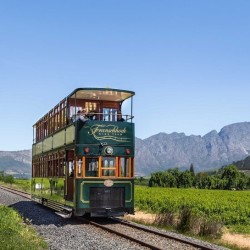 Helderberg
Helderberg is yet another wine producing region of the Cape that is very popular among visiting families and is also very central, close to the city centre and only a 30 minute drive from Cape Town International Airport. The three main suburbs that form part of the Helderberg area are located along the coast and overlook the beauty of False Bay.
For those eager to learn more about the Cape, check in with Strand's African Sun Tours to explore not only the Helderberg area but also more of Cape Town through the eyes of a knowledgeable tour guide.  Strand Beach is about 5 km's in length and is ideal for family outings and great for surfing. Of course, not everyone knows how to surf; fortunately Strand has its very own surf school namely The Son Surf School, offering lessons to locals and visitors from all over the world. The suburb of Strand is considered ideal for a family beach holiday, with plenty of activities for small kids.
Helderberg's Somerset West suburb is largely known for its stunning outdoors, with activities that include golfing, hiking through mountain passes and visiting various nature reserves. Somerset West is only a short 15 minute drive from Strand and a little bit further inland (although still close enough to enjoy daily beach visits). Somerset West is home to a number of alluring attractions, while travelling from a day out wine tasting at Lourensford Estate to an evening dinner in one of Somerset Mall's restaurants is easy and quick. For visiting families, Monkey Town and the Cheetah Outreach promise hours of amazement and fun. If you are visiting Somerset West in the December period, be sure to walk down Main Street and take in the town's famous Christmas lights display. Somerset West also hosts the annual Helderberg Lights Festival during the festive season.
Another suburb in Helderberg that has great appeal to tourists and locals is the harbour village of Gordons Bay. From its blue flag beach to its vibrant waterfront, Gordons Bay is considered a top holiday destination and offers many attractions, while still being relatively central. One of the main attractions at Gordons Bay is Whale Watching. Although Gordons Bay is the smallest of the three main suburbs in the Helderberg region, it has a ton of character. Bikini Beach is very popular, safe and family-friendly and restaurants like The Thirsty Oyster Tavern and the Old Cape Cafe have been favourites in the area for years.
By booking holiday accommodation in a modern self-catering apartment in Strand, endless beach adventures can be enjoyed. Guests can also choose from a selection of stylish holiday accommodation options in Somerset West or else book a lovely self-catering apartment in Gordons Bay. Holiday visitors have the opportunity to enjoy the best of these areas at their own pace and make lifelong memories.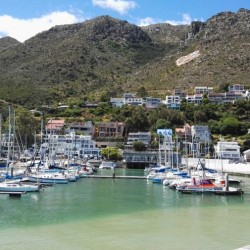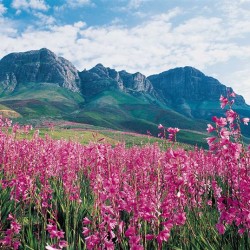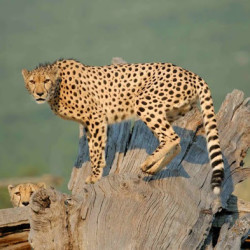 When planning a trip to Cape Town, choose from a variety of amazing destinations. The expert team at Holiday Apartments are available to assist you in accommodation bookings and car rentals – we offer contemporary self-catering accommodation options that allow visitors to enjoy the best of their surroundings. For more information on the benefits of self-catering accommodation, check out our blog post on the benefits of self-catering accommodation in and around Cape Town.